Regular readers will have noticed the addition of posts each Saturday for the Etsy Bloggers Street Team Blog Carnival. Essentially this is a weekly topic that members of the street team blog about. The posts are then rounded up by the carnival "host" and all linked to from a single entry. New carnivals are posted each Monday, to follow along in upcoming weeks simply click on the blog carnival widget in my sidebar. This week I am hosting; I hope you enjoy reading about "collections" from the perspectives of some of our members. : )
Some of you will have already seen my post
I Horde
posted
just two days ago
. Alicia Mae proves that great minds think alike as she also admits
"I horde!!!"
in
AliciaMae's Xanga
.
Yazmin introduces us to her newest collection
"Brassy"
with her post at
A Pretty Rock Jewelry
. Meanwhile, over at
MissMalaprop.com
, Mallory showcases her entry for the
Etsy Treasury Poster Contest
.
Lis Kidder discuss the using
Collections
to their best effect in your Etsy shop on her blog
Etsy Shops
.
Jessica reveals how her family history influences her
Collections
over at
AllSweet
. Over at
Bead Jewelry by Shopgirl
, Regina demonstrates her
Passion for Purple
.
Confections shares some of her favorite things in a
Collectibles Collage
posted at
Stelladanza
.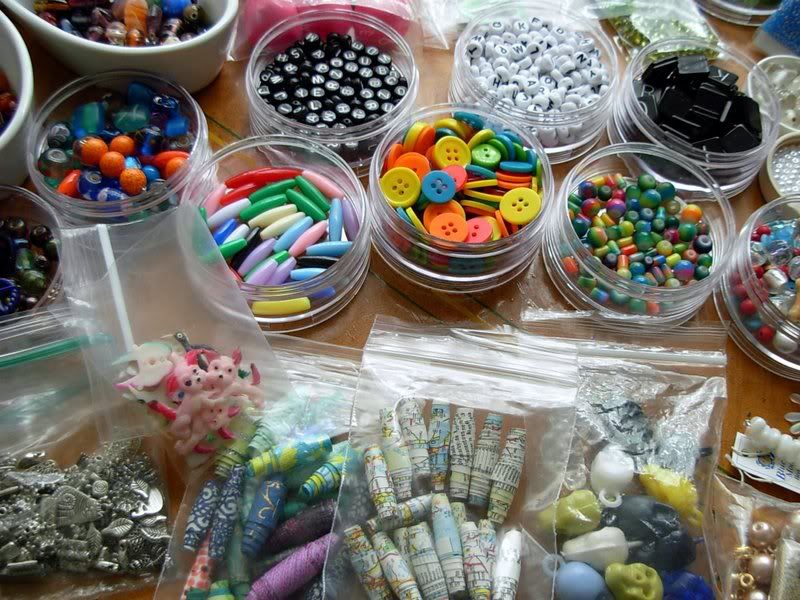 Finally, Terri introduces readers to to her beads in
Collections!
posted at
Impybat~Groovy Vinyl: An Eclectic Mix Of Jewelry And Art
Next week's carnival (on the topic of "Preparing for a Craft Fair") will be hosted by
AliciaMae
. Since summer is the season for craft shows, I'm looking forward to a lot of great information (unless of course, everyone is at the fairs! ; )